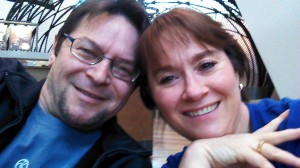 When I met Kimberly in college I had no idea she had hearing loss.  She was already highly adapted to finding additional ways to understand communications because speech was so difficult for her.  As our marriage progressed and we had children it become more obvious how hard she had to work to understand.  The children took advantage of her hearing loss sometimes.  Our relationship also struggled as her hearing deteriorated to the point where hearing aids were no longer working for her.
Through it all we figured out how to keep our love, family, and marriage strong.  We found ways to stay close and deal with the challenges together as a team.  She never gave up and had the courage to embrace hearing loss and do whatever it took to live a normal life.  Our relationship is now better than ever.  In her play she tells the story of our journey and even tells my side of it.  Perhaps you know someone with hearing loss too.  Would you like to know what it is like for them?
Kimberly's play about her hearing loss journey is debuting in Seattle in January. If you've seen it previously, this is the entirely new Lost in Sound: A One Woman Play.
It is coming to the legendary Town Hall in Seattle on Friday, January 23, 2015!  Don't miss it.  Her show will change the way you think about hearing loss forever.
For tickets go to http://lostinsound.brownpapertickets.com