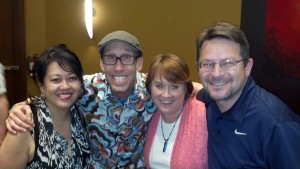 Hi Friends,
Joe and I went to a workshop over Father's Day. In this podcast we review Andy Dooley's personal growth workshop called Vibration Activation. We attended the workshop in Vancouver Canada and Mike Dooley's brother Andy has his own style that you need to see. Lots of fun! Andy Dooley has a high energy approach that really works. My Lost in Sound play re-write is making progress. I've hired a transcriptionist to do some of the editing.
Click here to listen to the podcast PYL Podcast 14 – Andy Dooley
Thanks for all your support of my dream.
Love Kimberly