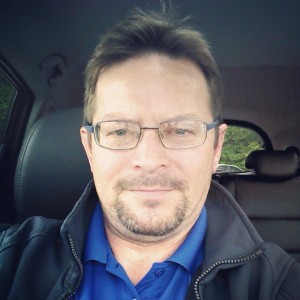 I met my wife Kimberly in the summer of 1984. I had returned home from my sophomore year at college and was working to earn enough money to enroll for the fall semester at Boise State University. I started working at this Ice Cream Novelty business a couple of summers ago. After working previously as a driver I had been recently promoted to manager. Kimberly got hired as a driver and I noticed her right away. She was beautiful, had a terrific smile, and was very friendly and talkative. One of the other drivers invited her to come with us after work for a drink. She agreed and decided to drive us all in her car which was a beat up old Volvo station wagon. My friend Patrick, who was hoping to date her, jumped in the front seat beside her and I rode in the back.
Once we arrived, Kimberly and I made an instant connection. It turned out that I knew her older sister Teri and had dated her sister's roommate at the University of Idaho. I found her easy to talk to and soon we were laughing and getting along like long lost friends. By the end of the night it was obvious that Patrick was not her type. When the time came for her to give us a ride back to our cars I jumped in the front seat with her. Patrick said "Hey, that's my seat." I replied "Not anymore". After that, Kimberly and I started dating and have been best friends ever since.
At first, communication between us was easy. We talked on the phone for hours on a regular basis. I don't recall having to repeat myself or change the way I spoke to make it so she could understand me. I was excited and relieved at Kimberly's direct communications style. She told me exactly what she was thinking and feeling. There was no façade or mask that she used to disguise her real self. She was comfortable with who she was and didn't feel any need to hide from me. I was relieved because every other woman I had dated would play communication games. Tell me one thing and tell someone else another for example. Or, tell me everything was fine when I knew it wasn't. These types of behaviors kept me guessing and led quickly to frustration. I refused to play the games and left these situations quickly.
Kimberly and I enjoyed having intimate one to one conversations. We would sit close together and share whatever was happening in our lives. Perhaps this made the communications easier for her, but it also made me feel special. There were no distractions from others and each of us felt heard. We had each other's complete attention. I also discovered she is a great listener. She knows how to probe out the important stuff in any situation. She also shares my joys and sorrows like nobody I ever met before. Many times her excitement about things was more than mine. She adds excitement and positive drama to what seems to me to be ordinary life experiences.
_________
In the early years of our relationship I didn't notice she had any hearing loss at all. I believe she wasn't aware of it either. I learned that hearing loss ran in her family tree. Her mother had dealt with hearing loss most of her life but was fully functional working as an elementary school English teacher. She never let it hold her back. In fact, she earned her master's degree without any hearing assistance. One of the likely causes for Kimberly's HL was a case of spinal meningitis when she was 15 years old. She was one of the lucky few who got it that year and survived. She spent her 15th birthday in the hospital. It was not as widely known then but spinal meningitis has devastating side effects such as hearing loss, blindness, limb loss and speech loss. She did not notice any side effects at the time but over time the hearing loss progressed.
Kimberly enrolled in the Drama department at Boise State University. She excelled in the program and was cast into leading roles in several large productions. She played Vera Charles in Mame the Musical and Yenta in the Fiddler on the Roof among others. After starring in several shows a one of her professors in college noticed she had a hard time hearing directions on stage. He had recently received a hearing aid so the symptoms were obvious to him. He encouraged her to have her hearing tested and it was discovered that she had a moderate hearing loss. The expense of hearing aids made them out of her financial reach but Idaho had a Vocational Rehabilitation Program that paid for them. So at age 22 Kimberly received her first hearing aids and entered the process of embracing hearing loss. There is much more to this story…
Kimberly's play about her hearing loss journey is debuting in Seattle in January. If you've seen it previously, this is the entirely new Lost in Sound: A One Woman Play. It is coming to the legendary Town Hall in Seattle on Friday, January 23, 2015!  Don't miss it.  Her show will change the way you think about hearing loss forever.
For tickets go to http://lostinsound.brownpapertickets.com